The legendary and world famous design and style house of Tommy Hilfiger has released a number of new perfumes spanning the entire collection of its fragrance series for 2020. ...
05 December, 2020 | Comments(0)
The impressive Banana Republic Icon Collection is upgraded with a pair of interesting editions Grassland and Metal Rain. Titles sound exciting and from the list of ingredients...
05 December, 2020 | Comments(0)
The esteemed Abercrombie & Fitch brand has introduced a couple of new additions to its selective fragrance collection and we present the latest releases to the loyal followers...
04 December, 2020 | Comments(0)
Dark Vanilla will comfort your heart this holiday season. All this merit to its sensual notes of resinous Vanilla, Spices and Amber. Sandalwood, Leather and Oud Wood provide i...
04 December, 2020 | Comments(0)
Capricho in three fascinating versions from O Boticario. Are you ready for some excitement? Capricho Loving Great, but to be able to fall in love? Transforming is part of ...
03 December, 2020 | Comments(0)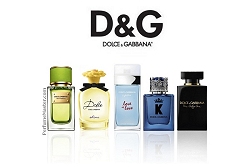 The legendary and globally recognized house of Dolce and Gabbana has released a range of new fragrances spanning the complete series of its perfume collection for 2020. Just a...
03 December, 2020 | Comments(0)
Natura Homem Verse is a call to observe and view yourself more deeply in search of self-knowledge and transformation. Rhythmic Transformation Homem Verse The new fragrance...
02 December, 2020 | Comments(0)
The holiday season is almost here and the fragrance division of design and style house Hugo Boss has launched a number of new aromatic creations for 2020 across its wonderful ...
02 December, 2020 | Comments(0)
Kate Spade New York, the latest fruity floral fragrance. Adventure the elegance of New York City with this perfume by Kate Spade. Kate Spade New York Eau de Parfum is an enjoy...
01 December, 2020 | Comments(0)
December is here and today we are returning to explore the aura of fragrant Escada Perfume launches for 2020 as a remembrance for the enthusiast of this brand and the impressi...
01 December, 2020 | Comments(0)
Experience the essence of euodic scents to all the loyal followers of the wonderful Davidoff Fragrance collection we take a glance at the fantastic perfumery creations for 202...
30 November, 2020 | Comments(0)
Get your preparations done A visit to town at Christmas and you can see children gathering to watch the scenes of animals feeding from a manger while others are rushing to ge...
29 November, 2020 | Comments(0)
Welcome to Perfume Master - your one-stop destination for finding all the latest designer fragrances, perfume reviews, top perfumes for men and top perfumes for women. Here you will find a wide and diverse range of designer fragrances, from gourmand fragrance, wood fragrance and spicy perfumes to citrus scented perfumes, floral perfumes, oriental fragrances and other new perfumes. Select from a complete range of designer fragrances, whether you prefer a gourmand fragrance or spicy perfumes.
In search of a new perfume or want a fragrance that can change the way you feel Perfume Master is the place for you. Perfumes are much more than scents. Today, the market is flooded with hundreds of thousands of new perfume brands that act as a status symbol. Almost every celebrity and fashion designer has a perfume brand. Some of these brands are considered as top perfumes for men and women. Perfume vary from oceanic to oriental to floral to citrus to many more varieties. With this being said, it is extremely difficult to choose a "single" perfume that fits all your needs!
If you are longing for designer fragrances, Perfume Master is here to help. Buying perfumes online is an art and here with all the details regarding perfumes we can make it very simple and ensure that you buy a great perfume in just a few clicks.
In Stores Now
Shop from the market Leaders! Last but certainly not least, buy your favorite perfume from true market leaders! They do make a difference in the industry and here you will find them all!
Best Perfume for Men
Popular Men's Fragrance
For men, before deciding to buy a perfume online, you must be aware of its benefits. One of the most obvious benefits of buying designer perfumes is the "Fragrance". For centuries, perfumes have been used for its striking and mind-blowing fragrance. It helps keep smelling good for you and people around you. Indeed, the perfumes will make sure you smell the same and great throughout the day.
A bright and fresh ocean perfume will compliment the sailor in you. Oriental fragrances rarely go out of style and with just the right cinnamon end note are the perfect match for the bold and rugged men among us. Spicy perfumes have always won points with the ladies and mixed with a touch of masculine tobacco base notes will get the ladies attention.
Best Perfume for Women
Popular Women's Fragrance
For women, a major reason to invest in top perfumes would be "enhanced mood". Did you know that floral fragrances can lift low spirits, or that ocean fragrances can calm a restless mind? Fragrances can reflect your actual mood. If you are reserved, naughty, playful or even timid, you have a fragrance to represent your mood. So, the next time you choose a perfume, go for two to three options! This way you will have a fragrance for every other occasion.
From the top perfume for women line-up featuring intoxicatingly beautiful designer fragrance creations one will notice that floral perfumes continue to be top choice among women with exceptionally good perfume taste always seeking flirtatious and fruity scents that really awakens the senses. Even light and fruity touched gourmand fragrances are becoming a trend of our times while lovely citrus scented perfumes which feature just the right floral notes will refresh and rejuvenate you.
Perfume Reviews

I have been in love with this perfume since the first time I smelled it in the cosmetics department ...
by Anonymous

I didn't like it at first, because I was expecting another sweet fresh citrusy type fragrance but it...
by Joe Z.

I had ordered this online and was disappointed at first, some medical, plasters, but the next day, I...
by Nelle bloem

My The Best Fragrances Ever!!!!, Alfred Dunhill Edition Opens Up With Mixed Citrus and Cinnamon At M...
by Kevin

Alfred Dunhill Signature Collection Morrocan Amber is More Unique and Sweet Scent, It's Expensive Bu...
by Kevin

Alfred Dunhill Black is The Most Magnificent Unique Fresh Green Aroma with Soft Flower and Gentle Sw...
by Kevin
Here you will find in-depth and up front perfume reviews for old and new perfumes, including top perfumes for men and top perfumes for women.
From a favorite base note wood fragrance which women absolutely love, and can't stop raving about what a great fragrance it is to wear in colder weather to an aromatic citrus scented perfume which gradually evens out to a wood fragrance over the course of the day and makes you feel at calm and ease as you let its shining citrusy scent stimulate the mind, body and soul here you will find virtually any combination you can imagine.
Before you invest in a perfume that promises to make you attractive and boost your confidence, read reviews. Perfume reviews will help you choose the right product against all possible odds. Remember, buying the right perfume is not an easy task. You must go through numerous options, read many reviews, experience different scents and then choose that final product. Here you will find plenty of reviews and testimonies with personal real user opinions. Go ahead and learn more about the market's "top perfumes for men" and "top perfumes for women". These reviews will definitely leave you inspired.