Eau de Cologne Impériale the renowned fragrance from Guerlain is embellished with a special red style, for a festive limited edition in celebration of the Chinese New Year. ...
23 February, 2019 | Comments(0)
Armani Si Fiori is the latest pink edition of the trendy Armani Si collection, tempting you to expose your genuine nature and self being through inspiring confidence and trust...
22 February, 2019 | Comments(0)
La Vie Est Belle en Rose, Life is Beautiful in Rose is the new fragrance from Lancome delivering one more delightful Crystal Smile. Charmingly Floral La Vie Est Belle En R...
21 February, 2019 | Comments(0)
The Glowing Eau De Toilette Nomade Eau de Toilette is a solar concept of the Eau de Parfum, promoting natural elements formulated by perfumer Quentin Bisch. The glowing, capt...
20 February, 2019 | Comments(0)
Guerlain Aqua Allegoria range of fragrances by now records twenty years of delightful creations and this year's Flora Cherrysia, Coconut Fizz and Ginger Piccante are the new p...
19 February, 2019 | Comments(0)
Designer Hermes brings a treat for its enthusiasts with its new seasonal collector bottles of its popular Terre d'Hermes fragrance with its new H Bottle limited edition for 20...
18 February, 2019 | Comments(0)
Classique Cabaret Limited Edition appears with an exciting new outfit for designer Jean Paul Gaultier's famous female body with a red sparkly costume. The concept for the limi...
17 February, 2019 | Comments(0)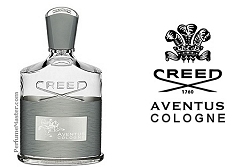 Creed Aventus Cologne is the new all-embracing fragrance from the House of Creed centered on one of its most famous aromas, Aventus. Fusing the history and style into Avent...
16 February, 2019 | Comments(0)
Gucci Guilty Pour Femme Eau de Parfum shows up as the new chapter in the range of Gucci Guilty fragrances developing from eau de toilette to eau de parfum concentration. Gu...
15 February, 2019 | Comments(0)
Boss Bottled 20th Anniversary Edition is the new release from Hugo Boss Perfumes for the occasion of twenty years from the launch of the legendary Boss Bottled Eau de Toilette...
14 February, 2019 | Comments(0)
Cacharel Yes I Am Pink First is the up-coming phase in the designer's newest Yes I Am perfume selection released in 2018. Are you Ready? Yes I Am Pink First The new fragra...
13 February, 2019 | Comments(0)
Flower by Kenzo Eau de Vie creates the love of life with its adoring perfume sensation, take pleasure in any occasion with the delight and beauty of the flower. Designer Kenzo...
12 February, 2019 | Comments(0)
Welcome to Perfume Master - your one-stop destination for finding all the latest designer fragrances, perfume reviews, top perfumes for men and top perfumes for women. Here you will find a wide and diverse range of designer fragrances, from gourmand fragrance, wood fragrance and spicy perfumes to citrus scented perfumes, floral perfumes, oriental fragrances and other new perfumes. Select from a complete range of designer fragrances, whether you prefer a gourmand fragrance or spicy perfumes.
In search of a new perfume or want a fragrance that can change the way you feel Perfume Master is the place for you. Perfumes are much more than scents. Today, the market is flooded with hundreds of thousands of new perfume brands that act as a status symbol. Almost every celebrity and fashion designer has a perfume brand. Some of these brands are considered as top perfumes for men and women. Perfume vary from oceanic to oriental to floral to citrus to many more varieties. With this being said, it is extremely difficult to choose a "single" perfume that fits all your needs!
If you are longing for designer fragrances, Perfume Master is here to help. Buying perfumes online is an art and here with all the details regarding perfumes we can make it very simple and ensure that you buy a great perfume in just a few clicks.
In Stores Now
Shop from the market Leaders! Last but certainly not least, buy your favorite perfume from true market leaders! They do make a difference in the industry and here you will find them all!
Best Perfume for Men
Popular Men's Fragrance
For men, before deciding to buy a perfume online, you must be aware of its benefits. One of the most obvious benefits of buying designer perfumes is the "Fragrance". For centuries, perfumes have been used for its striking and mind-blowing fragrance. It helps keep smelling good for you and people around you. Indeed, the perfumes will make sure you smell the same and great throughout the day.
A bright and fresh ocean perfume will compliment the sailor in you. Oriental fragrances rarely go out of style and with just the right cinnamon end note are the perfect match for the bold and rugged men among us. Spicy perfumes have always won points with the ladies and mixed with a touch of masculine tobacco base notes will get the ladies attention.
Best Perfume for Women
Popular Women's Fragrance
For women, a major reason to invest in top perfumes would be "enhanced mood". Did you know that floral fragrances can lift low spirits, or that ocean fragrances can calm a restless mind? Fragrances can reflect your actual mood. If you are reserved, naughty, playful or even timid, you have a fragrance to represent your mood. So, the next time you choose a perfume, go for two to three options! This way you will have a fragrance for every other occasion.
From the top perfume for women line-up featuring intoxicatingly beautiful designer fragrance creations one will notice that floral perfumes continue to be top choice among women with exceptionally good perfume taste always seeking flirtatious and fruity scents that really awakens the senses. Even light and fruity touched gourmand fragrances are becoming a trend of our times while lovely citrus scented perfumes which feature just the right floral notes will refresh and rejuvenate you.
Perfume Reviews

I love this perfume.. At one time I loved Beautiful Sheer, but now they have Beautiful Belle. The sc...
by gena

I first used it when I was in college and never forgot it since then. One of the best scents I ever ...
by Roni

So fresh! A demo spritz of this at a duty free airport on 2/3/2019 in Buenos Aires was enchanting! I...
by Anonymous

I had used Tabu by Dana almost exclusively since the early 70's and loved it. I got so many complime...
by Carolyn D

Excellent perfume..best one for winter..one of the best from hugo...
by Santy

This cologne is one of my all time favorites. If anyone can recommend a scent matcher who has a scen...
by MrSmellGood
Here you will find in-depth and up front perfume reviews for old and new perfumes, including top perfumes for men and top perfumes for women.
From a favorite base note wood fragrance which women absolutely love, and can't stop raving about what a great fragrance it is to wear in colder weather to an aromatic citrus scented perfume which gradually evens out to a wood fragrance over the course of the day and makes you feel at calm and ease as you let its shining citrusy scent stimulate the mind, body and soul here you will find virtually any combination you can imagine.
Before you invest in a perfume that promises to make you attractive and boost your confidence, read reviews. Perfume reviews will help you choose the right product against all possible odds. Remember, buying the right perfume is not an easy task. You must go through numerous options, read many reviews, experience different scents and then choose that final product. Here you will find plenty of reviews and testimonies with personal real user opinions. Go ahead and learn more about the market's "top perfumes for men" and "top perfumes for women". These reviews will definitely leave you inspired.