Herbae par L'Occitane pulls creativity from the wild grasses that grow in the heart of Provence, made into this green, fresh and floral fragrance. It's the epitome of nature i...
25 April, 2019 | Comments(0)
Oud Musc Eau de Parfum Intense delivers one more fabulous Musc composition from Narciso Rodriguez and follows this year's Pure Musc version. A brilliant pair Oud Musc from...
24 April, 2019 | Comments(0)
Abercrombie & Fitch reveals a new range of perfumes, plainly labeled Authentic, and the notion is related to staying genuine to yourself. As reported by the fashion designer, ...
23 April, 2019 | Comments(0)
A Girl In Capri for the sunshine, summer time and relaxing beachfront that's all you need for the approaching season. Uncover your special style with the latest Lanvin A Girl ...
22 April, 2019 | Comments(0)
L'Homme Ideal Cool a minty fresh woody aroma, the latest addition to the fashionable masculine fragrance series from Guerlain. Showing up in the stylish splendor of grey with ...
21 April, 2019 | Comments(0)
Boss Bottled Infinite is a call for modern-day men to totally take pleasure in life without having to give up and to continuously look for prospects to renew and reunite with ...
20 April, 2019 | Comments(0)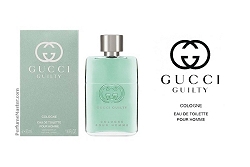 Gucci Guilty Cologne is the new episode in the men's narrative where Gucci Guilty reclaims the statement of style indicated by the hashtag #ForeverGuilty. A contemporary editi...
19 April, 2019 | Comments(0)
Le Vestiaire Grain de Poudre the new style in your wordrobe Grain de Poudre is the latest launch from Yves Saint Laurent, delivering one more perfume for its Vestiaire des Pa...
18 April, 2019 | Comments(0)
Black Opium gears up for the moment with every woman's clothing essential. For the first-time, personalize your most desired Black Opium Eau de Parfum fragrance bottle in a fa...
17 April, 2019 | Comments(0)
Mugler Secret the new tempting fruity floral Eau de Toilette with an enchanting aroma together luminous and mysterious. Uncover a secret you will not be inclined to reveal. ...
16 April, 2019 | Comments(0)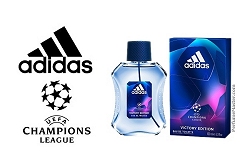 Prepare yourself to feel the fascinating sensations of victory with a radiant, aromatic fragrance from the adidas UEFA Bodycare range with masculine nature. The game is on!...
15 April, 2019 | Comments(0)
Are you up to it? Quasar Brave To develop the new aroma Quasar Brave Cologne, O Boticario explored the knowledge and tradition of Samurai millennial elements, seen in their d...
14 April, 2019 | Comments(0)
Welcome to Perfume Master - your one-stop destination for finding all the latest designer fragrances, perfume reviews, top perfumes for men and top perfumes for women. Here you will find a wide and diverse range of designer fragrances, from gourmand fragrance, wood fragrance and spicy perfumes to citrus scented perfumes, floral perfumes, oriental fragrances and other new perfumes. Select from a complete range of designer fragrances, whether you prefer a gourmand fragrance or spicy perfumes.
In search of a new perfume or want a fragrance that can change the way you feel Perfume Master is the place for you. Perfumes are much more than scents. Today, the market is flooded with hundreds of thousands of new perfume brands that act as a status symbol. Almost every celebrity and fashion designer has a perfume brand. Some of these brands are considered as top perfumes for men and women. Perfume vary from oceanic to oriental to floral to citrus to many more varieties. With this being said, it is extremely difficult to choose a "single" perfume that fits all your needs!
If you are longing for designer fragrances, Perfume Master is here to help. Buying perfumes online is an art and here with all the details regarding perfumes we can make it very simple and ensure that you buy a great perfume in just a few clicks.
In Stores Now
Shop from the market Leaders! Last but certainly not least, buy your favorite perfume from true market leaders! They do make a difference in the industry and here you will find them all!
Best Perfume for Men
Popular Men's Fragrance
For men, before deciding to buy a perfume online, you must be aware of its benefits. One of the most obvious benefits of buying designer perfumes is the "Fragrance". For centuries, perfumes have been used for its striking and mind-blowing fragrance. It helps keep smelling good for you and people around you. Indeed, the perfumes will make sure you smell the same and great throughout the day.
A bright and fresh ocean perfume will compliment the sailor in you. Oriental fragrances rarely go out of style and with just the right cinnamon end note are the perfect match for the bold and rugged men among us. Spicy perfumes have always won points with the ladies and mixed with a touch of masculine tobacco base notes will get the ladies attention.
Best Perfume for Women
Popular Women's Fragrance
For women, a major reason to invest in top perfumes would be "enhanced mood". Did you know that floral fragrances can lift low spirits, or that ocean fragrances can calm a restless mind? Fragrances can reflect your actual mood. If you are reserved, naughty, playful or even timid, you have a fragrance to represent your mood. So, the next time you choose a perfume, go for two to three options! This way you will have a fragrance for every other occasion.
From the top perfume for women line-up featuring intoxicatingly beautiful designer fragrance creations one will notice that floral perfumes continue to be top choice among women with exceptionally good perfume taste always seeking flirtatious and fruity scents that really awakens the senses. Even light and fruity touched gourmand fragrances are becoming a trend of our times while lovely citrus scented perfumes which feature just the right floral notes will refresh and rejuvenate you.
Perfume Reviews

I was given this as a present and love it - I just hope I can buy some more...
by Vicky

Zara Vanilla French Elegance is part of The Naturals, and it is my second cologne from that collecti...
by gianluc

It's a disappointment, it's one expensive perfume but doesn't last for more than an hour on my...
by Runzim

Please bring this back, it's my favorite perfume. Nothing else comes close....
by Tina

A warm Spicey gourmand, refreshingly different! Never cloying sweet, but bloomy and balmy spices tha...
by Mightynaf

I just love Abercrombie and Fitch perfume so I decided to get a bottle of Emerson perfume and I woul...
by Bimmergirl86
Here you will find in-depth and up front perfume reviews for old and new perfumes, including top perfumes for men and top perfumes for women.
From a favorite base note wood fragrance which women absolutely love, and can't stop raving about what a great fragrance it is to wear in colder weather to an aromatic citrus scented perfume which gradually evens out to a wood fragrance over the course of the day and makes you feel at calm and ease as you let its shining citrusy scent stimulate the mind, body and soul here you will find virtually any combination you can imagine.
Before you invest in a perfume that promises to make you attractive and boost your confidence, read reviews. Perfume reviews will help you choose the right product against all possible odds. Remember, buying the right perfume is not an easy task. You must go through numerous options, read many reviews, experience different scents and then choose that final product. Here you will find plenty of reviews and testimonies with personal real user opinions. Go ahead and learn more about the market's "top perfumes for men" and "top perfumes for women". These reviews will definitely leave you inspired.